Skip to Main Content
It looks like you're using Internet Explorer 11 or older. This website works best with modern browsers such as the latest versions of Chrome, Firefox, Safari, and Edge. If you continue with this browser, you may see unexpected results.
McCoy Press Journals
McCoy Press was founded by Dr. Matthew McCoy DC, MPH, a respected researcher, academic, lecturer and author.
Dr. McCoy is presently a Professor of Clinical Sciences at Life University where he was previously the Director of Research.
He has over 20 years of clinical experience having practiced in New York, Florida, Washington, and Georgia. He was the owner and Director of one of the first integrative health care centers in South Florida. He has lived and worked in Russia and established the first chiropractic center in that country within a women and children's hospital.
Images used with permission of McCoy Press
About McCoy Press Journals
McCoy Press Journal Collection - access instructions
The David D. Palmer Health Sciences Library has access to the
following
McCoy Press journals:
Follow the journal link above to the David D. Palmer Health Sciences Library e-Journal list.
Pick up the required password and log in (look for this icon
) and use it to log in to the McCoy Press Journals page.
McCoy Press indexing sources
McCoy Press titles are currently only indexed in these sources:
The McCoy Press website. Follow the link below to access the McCoy Press Search Page.

The Index to Chiropractic Literature also provides an access point for McCoy Press articles. Follow the links and instructions below.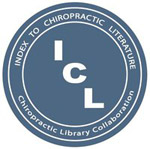 Index to Chiropractic Literature
Use the "Advanced Search" (located at the top of the page) and select the McCoy Press journal title abbreviation from the "Journal" drop down list.
J Pediatr & Fam Health Chiropr
J Upper Cervical Chiropr Res
Chiropr Dialog
J Vert Sublux Res
Clicking on "Search" without anything other than the Journal abbreviation will return all of the available citations for that particular title.
Website Disclaimer
Disclaimer:
Palmer College of Chiropractic is not responsible for the content of the external websites contained in this research guide. The views and opinions of the authors expressed in these external websites do not necessarily state or reflect those of Palmer College of Chiropractic.